![if !IE]> <![endif]>
.

.
THIS SITE IS HOSTED ON A RASPBERRY PI 2 MODEL B COMPUTER
Linux-Apache2-MySQL-PHP5
.
.
Getting Started With Your Raspberry Pi Computer
Get To Know Your Pi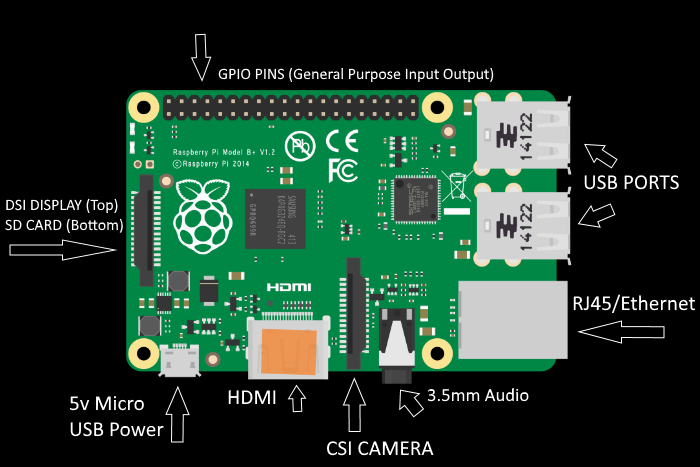 What You Will Need
Raspberry Pi Computer (and a recommended case)
Micro SD Card
HDMI Cable (and Monitor or TV)
Network Cable (or WiFi)
Micro USB pwr supply 5v 2.4Amp
Keyboard and Mouse
What Will Work
Getting Your SD Card Ready
*** WARNING ***
Cleaning Your SD Card Will Remove ALL Data
To clean the SD card we will be using a Windows PC
Clean the SD card with DISKPART
Put the SD card into the Windows Computer
Open DISKPART by typing diskpart in the Windows Run Box
Type list disk to display the disks attached
Select the SD card by typing select disk (your disk number)
*** MAKE SURE YOU PICK THE CORRECT DISK ***
To clean the disk, type clean
To prepare the SD card for data, type create partition primary
Type exit to leave DISKPART
Get an operating system
Choose your operating system
Raspbian Jesse is the official OS for the Pi, based on Linux Debian
Other operating systems found on the official Raspberry Pi page

Ubuntu Mate - A version of Ubuntu designed for the Pi
Windows10IoT - Windows Internet of Things development
Noobs - New Out Of Box Software, a basic install agent that includes

Raspbian Jesse - Based on Linux Debian
Raspbian Wheezy - Based on Linux Debian (old)
Pidora - Based on Linux Fedora
others....

Berry Boot - A multi boot platform that allows you to install
several different operating systems and choose wich one loads during startup

Raspbian Jesse and Wheezy- Based on Linux Debian
Fedora - Linux Fedora ARM
Ubuntu - Based on Linux Ubuntu
RetroPi - Retro Game Emulator
Linux Puppy - Light Weight Linux OS
Kali - Linux for hacking and testing
others....
Install the operating system
Prepair the image file, if it is compressed, decompress it so it is someOSname.img
Download Win32DiskImager and install it
Open Win32DiskImager and write the image to your SD card
Eject the SD card
Time To Boot
Insert the SD Card into the Pi
Plug the HDMI cable into the monitor and the Pi
Plug in the Ethernet Cable
Plug in the keyboard and mouse
Plug the power cable into the Pi and the outlet
Watch it boot.......
If you boot to a log in screen
USERNAME: pi
PASSWORD: raspberry
For Raspbian and some other Pi OS
To get to the GUI type startx
To shut down from the Terminal type sudo shutdown -h now
To reboot from the terminal type sudo reboot
Update Your Settings
Open a terminal window
Type sudo raspi-config to open the configuration tool
Go to ADVANCED OPTIONS then choose UPDATE
Choose EXPAND FILE SYSTEM, this will extend the Linux file system to the full size of the SD card
Choose CHANGE PASSWORD, this will change the password for USER: pi (password was: raspberry)
Choose BOOT OPTION, this will let you choose if you boot to the GUI or Terminal and if you need to log in
Choose INTERNATIONAL OPTIONS the choose TIME-ZONE and set your time zone
Choose ADVANCED OPTIONS then choose HOST NAME, give your Pi a name
Choose ADVANCED OPTIONS then choose SSH then ENABLE, this will make sure your Pi is set up for SSH
Exit the Configuration Tool
If it doesnt reboot, type sudo reboot to reboot
Log Back In

USERNAME: pi
PASSWORD: your new password



Now to update all your APT package files
Type sudo apt-get -y update && sudo apt-get -y upgrade && sudo apt-get -y dist-upgrade
It will take a while, when done reboot and go build, develope, hack and play